While we were all shacked up during the coronavirus, the world was learning to bake. I'm not sure if people were loving it or just looking for a way to stay sane, but one thing is for certain: supermarkets couldn't keep yeast on their shelves. Making "bread bread" (meaning bread with yeast that rises and needs to be kneaded…see what I did there???) is still on my quarantine to do list; I'm hoping to get to it next week. For now, I'm stick with quick breads because that way I don't have to elbow anyone in the eye and run away with the last yeast packet!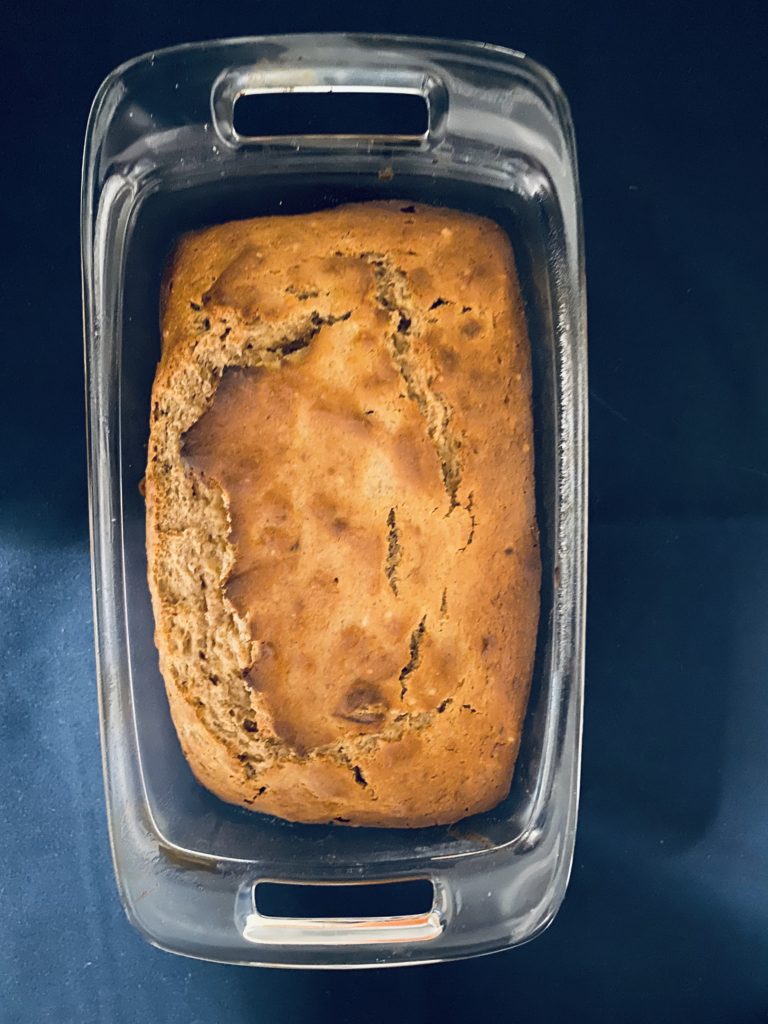 One of the top Google searches during the pandemic has been Banana Bread. I attribute this to people buying too many bananas and then panicking as they brown in the fruit bowl. We all know that this is not time to be wasting food! Banana bread is a yummy way to put your browning bananas to use.
Banana Bread with a twist
There are tons of traditional recipes out there, so I thought I would share one with a little twist—a happy marriage between banana and (pea)nut butter. Banana and (pea)nut butter are a match made in heaven; a truly irresistible combination. I've made this bread countless times and even though it is just my husband and I, it always disappears within 24 hours. I actually had to stop making it because, let's admit it, we didn't want to leave quarantine looking like we had only been eating bread! I hope you enjoy this recipe as much as we do.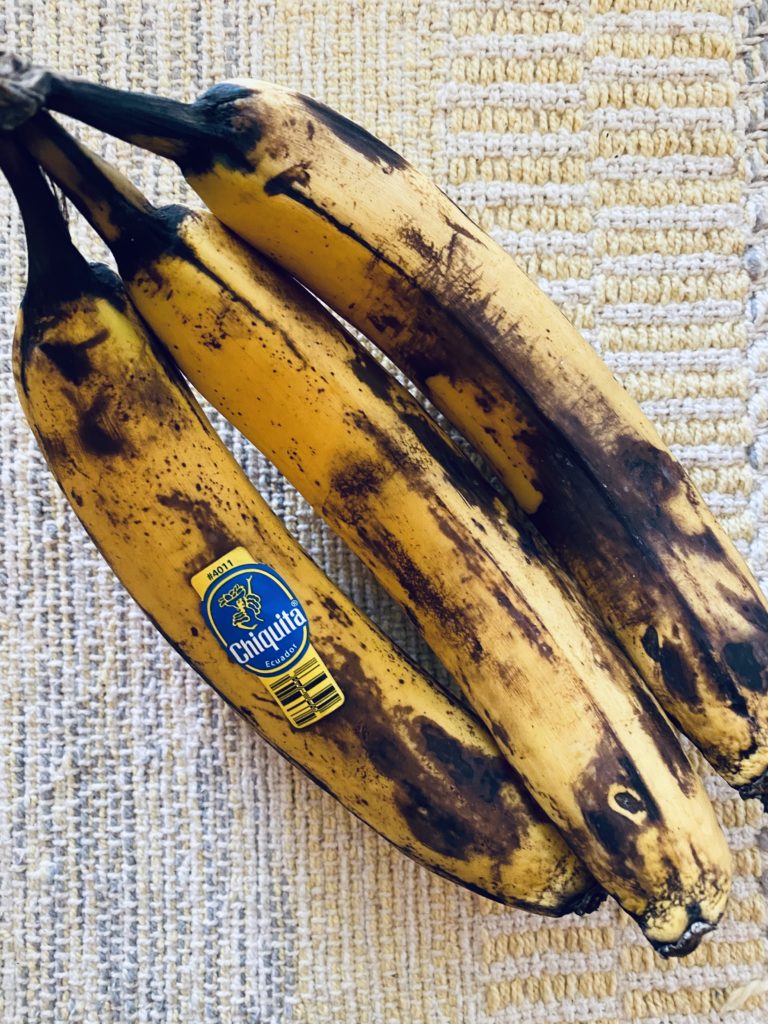 Wait…I'm allergic to peanut butter!
No problem! Just swap for your nut butter of choice. The only alternative nut butter I've made this with is cashew and it came out great, but I would love to hear what kind of nut butter you choose to use. Be sure to leave me a message below.
A healthy choice
I am always looking for a way to make my recipes as healthy as possible…especially when baking breads since I know I'm going to eat the whole loaf in 24 hours! While many bread recipes call for a whole cup of sugar, this one uses only a half a cup letting the over ripe bananas act as a natural sweetener. I've also cut down the oil (and there's no butter at all!!!!) and opted instead for some Greek yogurt, a secret cooking weapon if you ask me. With the added creamy goodness of the (pea)nut butter you can be sure that this bread is not only healthy, but it's packed with protein, so don't feel guilty when you eat the whole loaf yourself!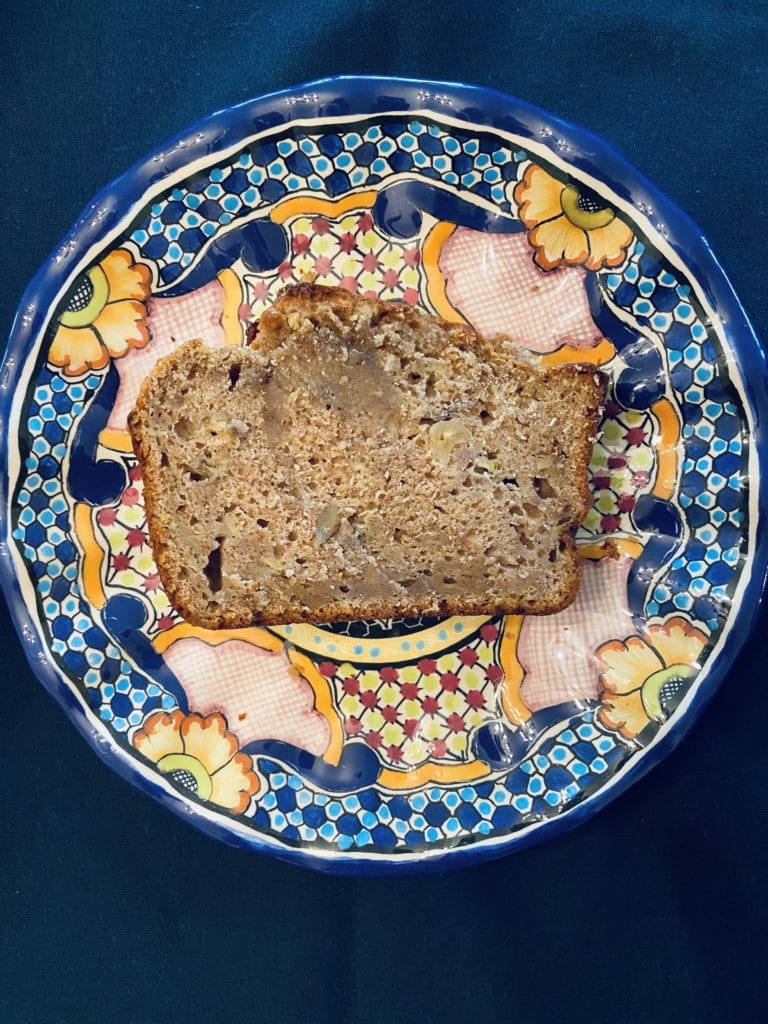 Let it cool!
This bread has lots of wet ingredients, so it will be pretty moist when it comes out of the oven. Let it completely cool before digging in as it needs time to set otherwise it will be quite crumbly. If I'm being honest, I often cut myself a slice right away because I can't resist even though it always falls apart on me. Then I remind myself to be patient since bread will firms up nicely as it cools.
Get baking!
There is nothing better than the smell of baking bread wafting from room to room, especially during these times when we are all quarantined!! If you're addicted to bananas and (pea)nut butter like I am, give this quick bread a try. And if you're looking for some more breakfast inspiration, try this Carrot Ginger Bread, these No Fuss Egg Cups or make Shakshuka (eggs poached in tomatoes). I also highly recommend these No Bake Granola Bars as a healthy, natural snack. As always, let me know how your (Pea)nut Butter Banana Bread comes out by leaving a comment below. Enjoy! Buen provecho!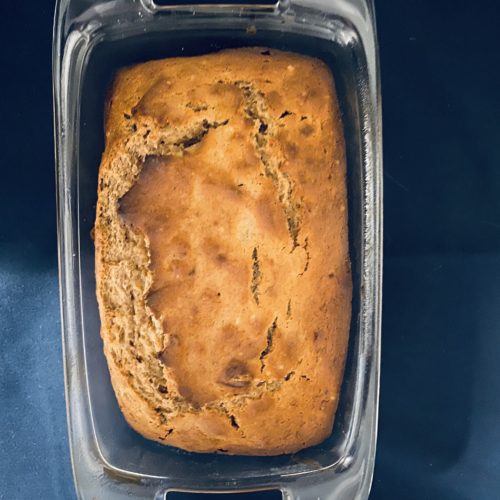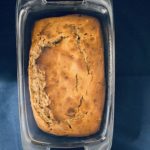 Print Recipe
Banana (Pea)nut Bread
Bananas and (pea)nut butter are a match made in heaven. This quick bread is healthy, packed with protein and highlights the natural sweetness of the bananas. Feel free to use any nut butter of choice.
Ingredients
Wet ingredients
2

large eggs

½

cup

plain Greek yogurt (low fat is fine)

⅓

cup

nut butter of choice (I use peanut)

¼

cup

vegetable oil

2

tsp

vanilla

3

overly ripe bananas, mashed

½

cup

optional add-ins: chopped nuts, (I always add walnuts), raisins, chocolate chips, etc.
Dry ingredients
1 ½

cups

flour

½

cup

sugar

1

tsp

baking powder

1

tsp

cinnamon

½

tsp

salt

¼

tsp

baking soda
Instructions
Preheat oven to 375 degrees F. Grease a 9 X 5 loaf pan or alternatively line it with wax paper sprayed with non-stick baking spray.

In a large mixing bowl, beat eggs and then add vegetable oil, yogurt, nut butter and vanilla mixing to combine. Fold in the mashed bananas with a spatula as well as any optional add-ins.

In a separate mixing bowl, combine all the dry ingredients. Gradually add the dry ingredients to the wet ingredients, stirring until completely combined. Do not over mix. Pour the batter in the greased pan and bake at 375 F for 50-55 minutes or until a knife inserted into the center comes out mostly clean (it's ok if it's a little wet as the bread will set as it cools; don't over bake). Remove from pan and allow bread to cool completely before enjoying. 
Notes
Use any nut butter you like.