Zucchini has really made a splash in recent years. Let's be honest, whoever started the trend of spiraling it and calling it pasta was a genius. For me, this discovery was just another reminder of how versatile this vegetable is. I love it grilled; it almost always makes an appearance in my scrambled eggs; it's divinely crunchy breaded and fried. Zucchini is yummy so many different ways, but probably my absolute favorite is stuffed.
Only required ingredient: zucchini
What's nice about making stuffed zucchini is that the only truly required ingredient is zucchini itself; the stuffing has endless possibilities. This recipe takes a Parmesan approach and combines classic Italian flavors that will have you drooling all over that cheesy goodness without worrying about the high calories of fried eggplant (my absolute favorite) or chicken. You also don't have to do all that dipping, breading and frying…we'll save that for another time because it is so darn good! Since you really only need zucchini, don't be afraid to adapt this recipe to exactly what you are craving or whatever you happen to have in the fridge; just prep stuffing, parboil zuchs and bake.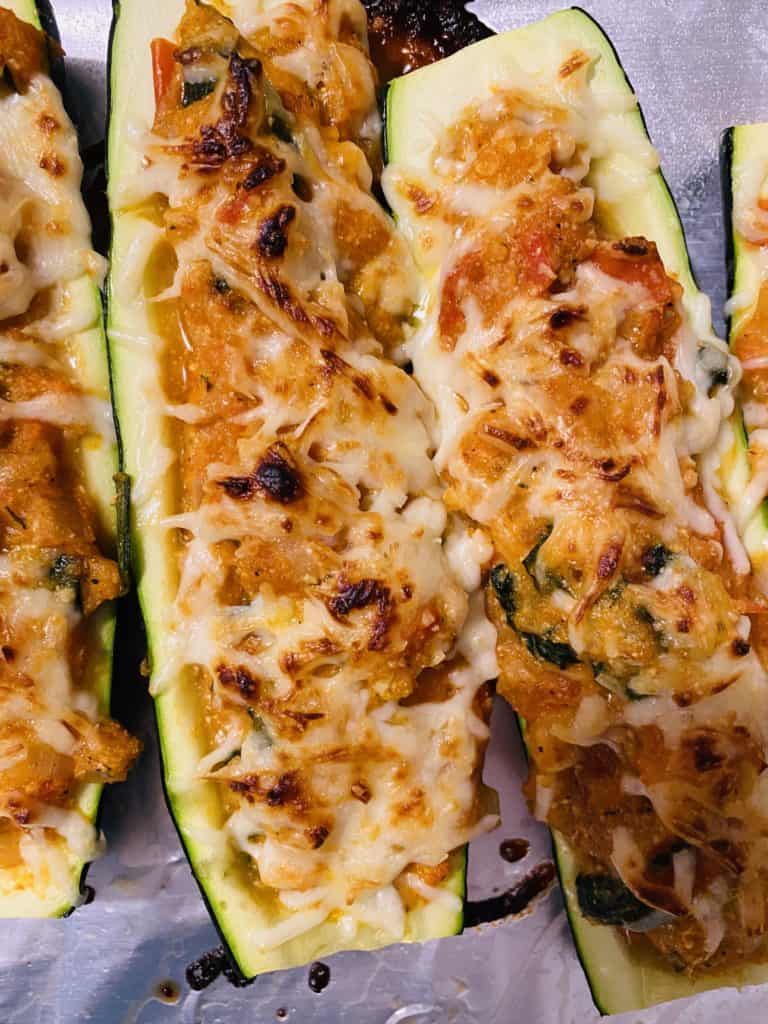 Why parboil?
There never seem to be enough hours in the day, especially at dinnertime, and I am always looking for ways to make cooking more efficient. Normally zucchini boats bake for about 30 minutes, but this recipe uses a parboiled technique to speed up the process. Parboiling simply means to partially cook by boiling. The key word here is partially. You do not want to over boil the zucchini as you will end up with mushy boats!! Boiling them for three minutes ensures that these bad boys only need to be in the oven for about 15 minutes (that includes baking and broiling!) until they are melt-in-your-mouth tender. An added bonus it that while the water is coming to a boil, you can dice your veggies and get them sautéing. Your dinner will be ready in under thirty minutes—a win for everyone, hungry kids and tired moms alike. When choosing a pot for paroling the zucchini, use one that is wide enough for the zucchini lengthwise (they can sit on top of each other if necessary). If you want, you could skip the parboiling and just bake the boats for longer (about 30 minutes, until fork tender), but give it a try since it really is quite a time saver.
Serving ideas
I serve two boats as the main course, but they could easily be an appetizer or side if you serve one. They pair well with sautéed broccoli rabe or broiled asparagus (broil the asparagus while parboiling and sautéing the veggies and the oven will be nice and preheated when your boats are ready to bake) or serve them with a side salad (here's a Can Can Salad that is easily adaptable).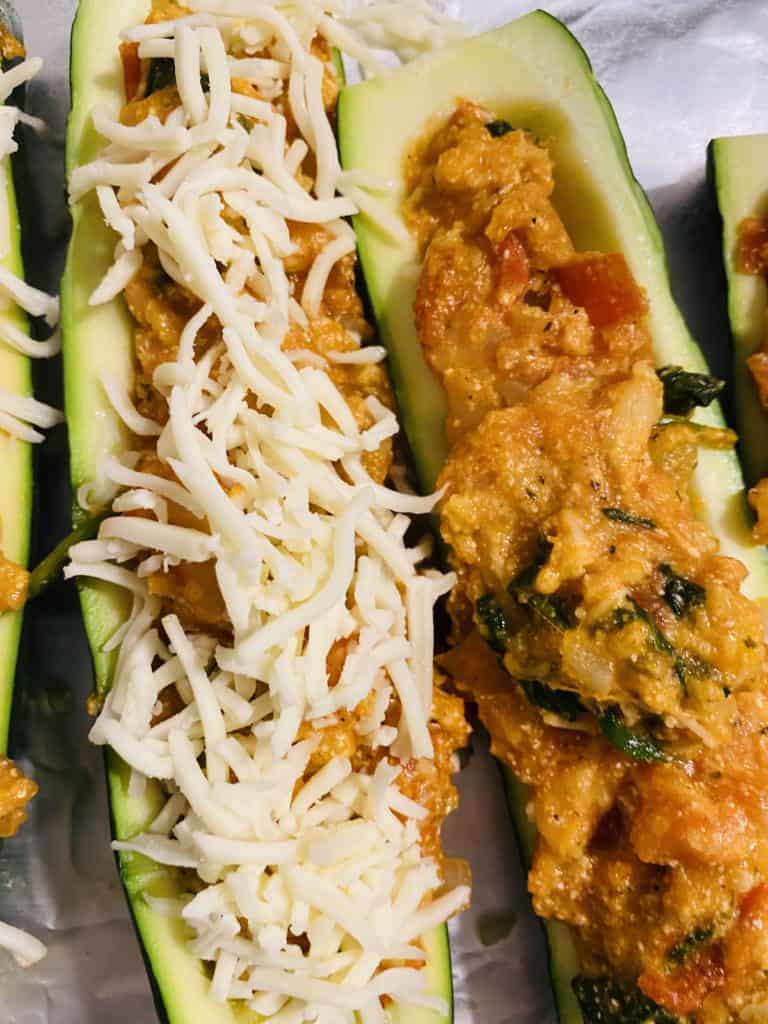 Get cooking!
I hope you love these! I know that my family can't get enough of them. And don't be afraid to stuff them with whatever you like or have. Get creative! If you're looking for some more Italian inspired dinner ideas, give these No Fry Eggplant Stacks a try; they are delicious. As always, let me know how your Stuffed Parmesan Zucchini Boats come out by leaving a comment below. Enjoy! Buen provecho!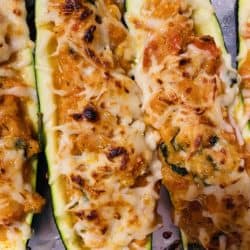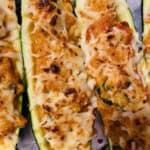 Print Recipe
Stuffed Parmesan Zucchini Boats
These Stuffed Parmesan Zucchini Boats highlight those classic Italian flavors you love. Parboiling the zucchini makes this tasty meal ready in just under 30 minutes. Serve two for a main course or one as an appetizer or side.
Ingredients
2

large zucchinis, ends trimmed, cut in half lengthwise

2

tbsp

extra virgin olive oil

1

medium onion, diced

3

cloves

of garlic, minced

1

tomato, diced

1

large handful of baby spinach

½

tsp

garlic powder

pinch

of red pepper flakes (optional)

salt and freshly ground pepper to taste

1/2

cup

of your favorite pasta sauce (mine is Rao's)

1/3

cup

ricotta cheese

¼

cup

Italian style breadcrumbs

¼

cup

shredded or grated Parmesan or Romano cheese

½

cup

mozzarella cheese
Instructions
Preheat oven to 350 F. Line a baking sheet with tin foil and coat with cooking spray. Bring salted water to boil in a pot wide enough to fit the zucchini lengthwise (they can sit on top of each other if necessary). Using a spoon, scoop out the flesh of the zucchini. Coarsely chop the flesh and set aside. Using tongs drop the zucchini into the boiling water and cook for 3 minutes, just to fork tender, being careful to not over boil. Transfer zucchini to prepared baking sheet.

Meanwhile warm oil in a large skillet over medium heat. Sauté the onion until translucent (about 5 minutes). Add garlic, tomato, spinach and zucchini flesh. Season with salt, pepper, garlic powder and optional red pepper flakes and cook until soft (about 5 minutes). Stir in Parmesan, ricotta, breadcrumbs and sauce and cook until heated through. Taste and adjust seasoning. Spoon mixture into the zucchini shells. Top with mozzarella cheese.

Bake at 350 F for 12-14 minutes (until the zucchini is easily cut with a knife). Finish by browning cheese under high broiler for 2-3 minutes. Serve immediately.
Notes
Parboiling the zucchini cuts down on the baking time and ensures a soft shell. While the water comes to a boil, prepare and sauté the veggies. If you want to skip parboiling, bake the boats longer (about 30 minutes), until fork tender.