If you've never made of roasted spaghetti squash you're really missing out. If you're like me and make it all the time, you know the secret power of this incredible veggie! You've probably seen spaghetti squash next to its cousins Acorn and Butternut, but like many people, had no idea that inside that not-so-little yellow gem, is fleshy goodness that when roasted will make you never feel guilty about eating pasta again.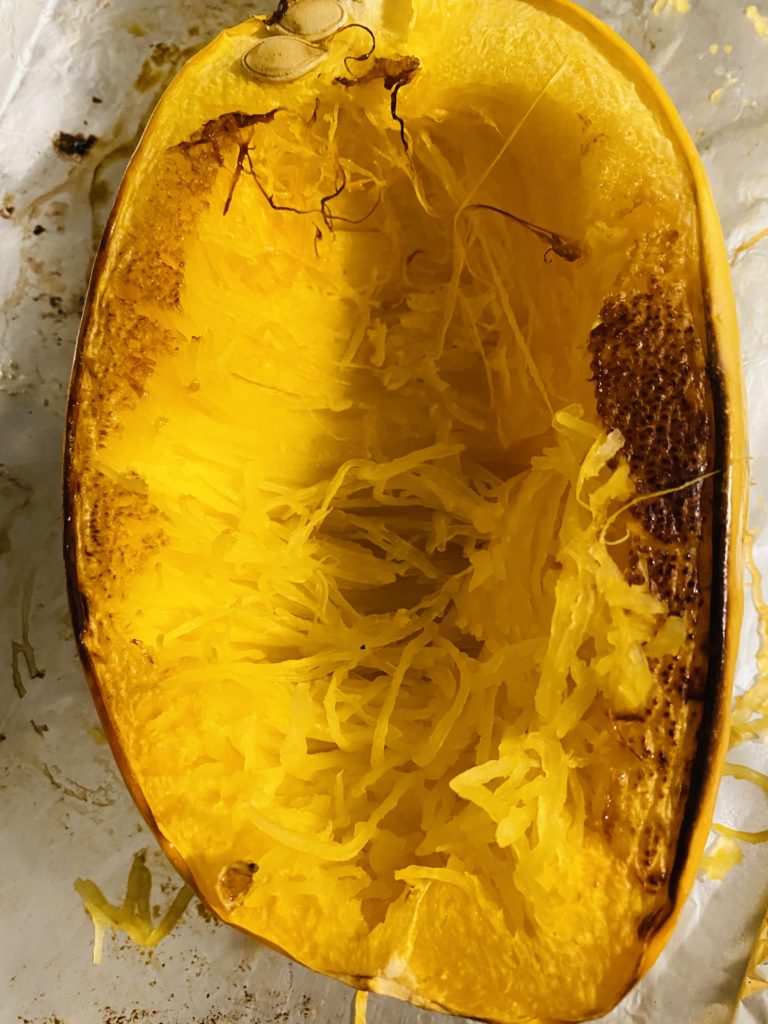 Cutting it in half can be a battle
Spaghetti squash is a crazy vegetable. True to its name, when roasted it literally looks like short spaghetti. The first time I prepared it, I was blown away. I thought, "now this is a game changer!". It is super simple to make—that is once you manage to cut it in half. I always think I am going to lose a finger either jamming my knife into it or seesawing as I pray that the squash cracks open evenly. Somehow I always win the battle with all ten fingers still intact, but if you are struggling, ask a strapping young member of your household to help you. Don't give up! It will be worth it!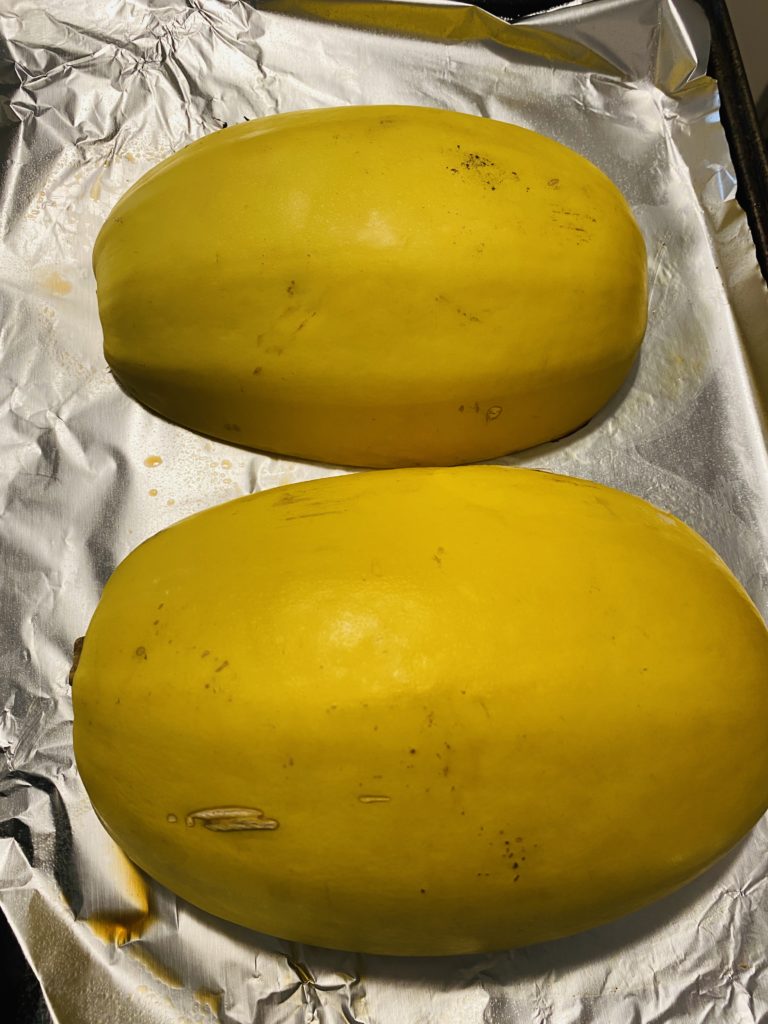 What to do with your roasted spaghetti squash?
To enjoy spaghetti squash, you just need to roast it.  That's it!  You could literally serve it sprinkled with salt and pepper and bam, you have yourself a side dish.  I prefer to use it as a pasta (even though it is a vegetable…I know, mind blowing!) and dress it up with sautéed veggies and my favorite sauce.  After you have roasted it, treat it as if it were actually spaghetti and serve it however you would pasta whether it be with meatballs, sausage, vegetables, smothered in Arugula Pesto, covered in cheese…you get the idea.  Be creative and take your magical spaghetti squash to the next level.  I always put two cups of roasted squash aside to make these yummy Spaghetti Squash Cakes…actually, I usually need to put four cups aside because these bad boys disappear quickly in my house.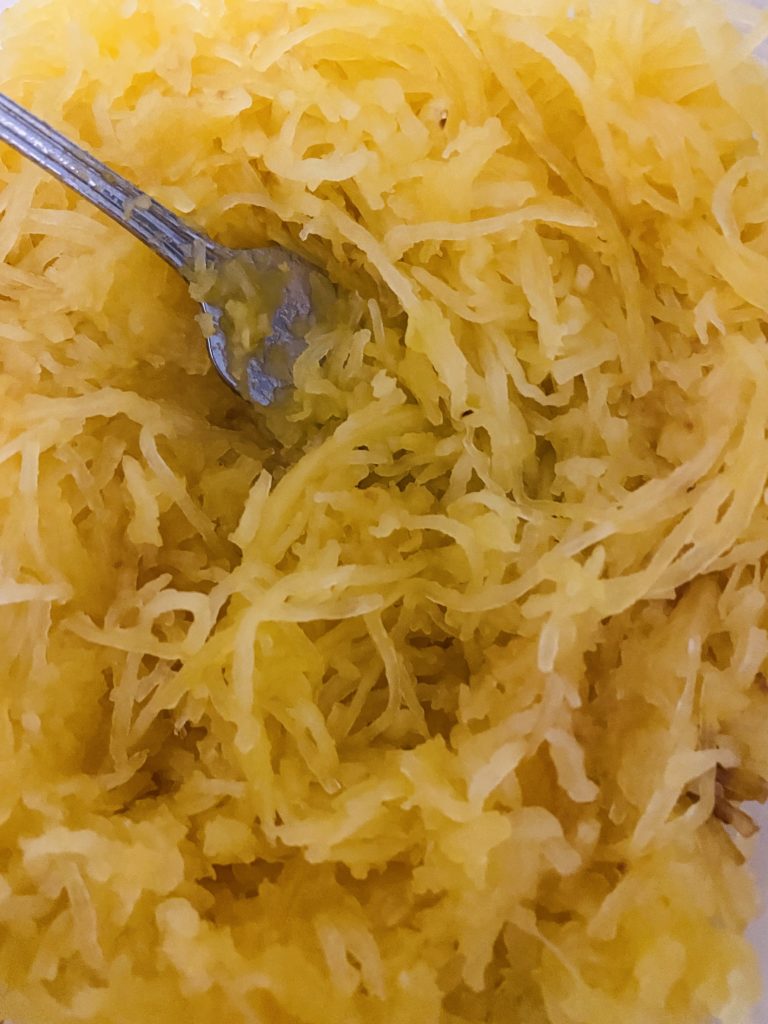 Get roasting!
Spaghetti squash promises to be a fun addition to your cooking repertoire. It is a set-it-and-forget-it kind of vegetable that can be enjoyed so many different ways. As always, let me know how your Roasted Spaghetti Squash comes out by leaving a comment below. Enjoy! Buen provecho!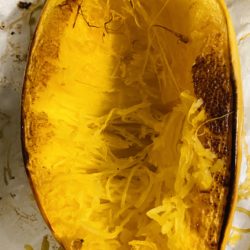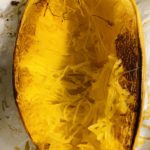 Print Recipe
Roasted Spaghetti Squash
Spaghetti squash is a magical vegetable that is super simple to prepare. You will never feel guilty about eating "pasta" again. Serve it as a side dish or make it the main event treating as you would traditional spaghetti and smothering it in your favorite sauces, tossing it with sautéed veggies or topping it with meatballs. 
Ingredients
cooking spray of choice

1

spaghetti squash, halved lengthwise

salt and freshly ground pepper to taste
Instructions
Preheat oven to 350 F. Cut the spaghetti squash in half and using a spoon, scoop out seeds and strings. Place the squash face down on a tinfoil lined baking sheet greased with non-stick spray. Bake for 1 hour or until the skin is easily pierced with a fork. Take out of oven and let cool for 10 minutes.

Using a fork, scrape away the squash flesh (it will look like little pieces of spaghetti) and transfer to serving dish. Season with salt and pepper. Serve as a side dish or use it in place of actual spaghetti in your favorite pasta dish.
Notes
After you have roasted the spaghetti squash, you can serve it as a side dish or treat it as you would spaghetti adding any sautéed veggies or meat that you would like and smothering it in sauce or butter.