Chili is an amazing comfort food that will warm you to the core on a chilly day (see what I did there? Chili and chilly!). Scoop it into a big bowl, wrap yourself in a blanket and turn on an episode of your current Netflix obsession. It's easy to make, flavorful and fully customizable. This vegetarian version is hearty enough that you won't miss the meat. So, get on the meatless Monday train or, even better, get on the meatless everyday train and make this chili that will have you realizing that vegetarian options can not only be yummy, but they can be filling too. And if you're looking for some more comforting options to warm you from the inside out try this Lentil Tomato Soup or this Cacio e Pepe (Cheese and Freshly Ground Pepper) Pasta.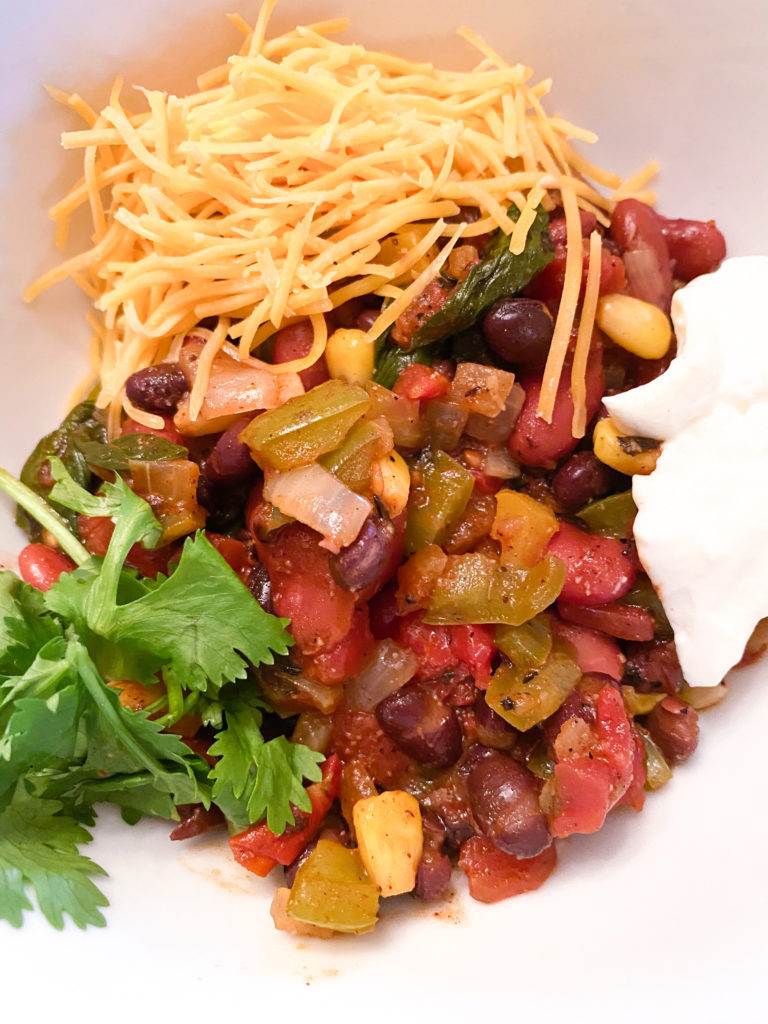 Basic ingredients
I have been making vegetarian chili for as long as I can remember. It is easy, filling and calls for basic ingredients meaning I can throw it together last minute without having to run to the store. I like it spicy, so I always add a jalapeño (without the seeds…I'm not nuts!) and a pinch of cayenne but leave this out if you're not into heat. I also try to include as many veggies as I can and on occasion will add carrots or celery to this recipe if I am feeling it. The beauty of chili is that it is hard to mess up, so I encourage you to add whatever veggies, beans and spices you like best.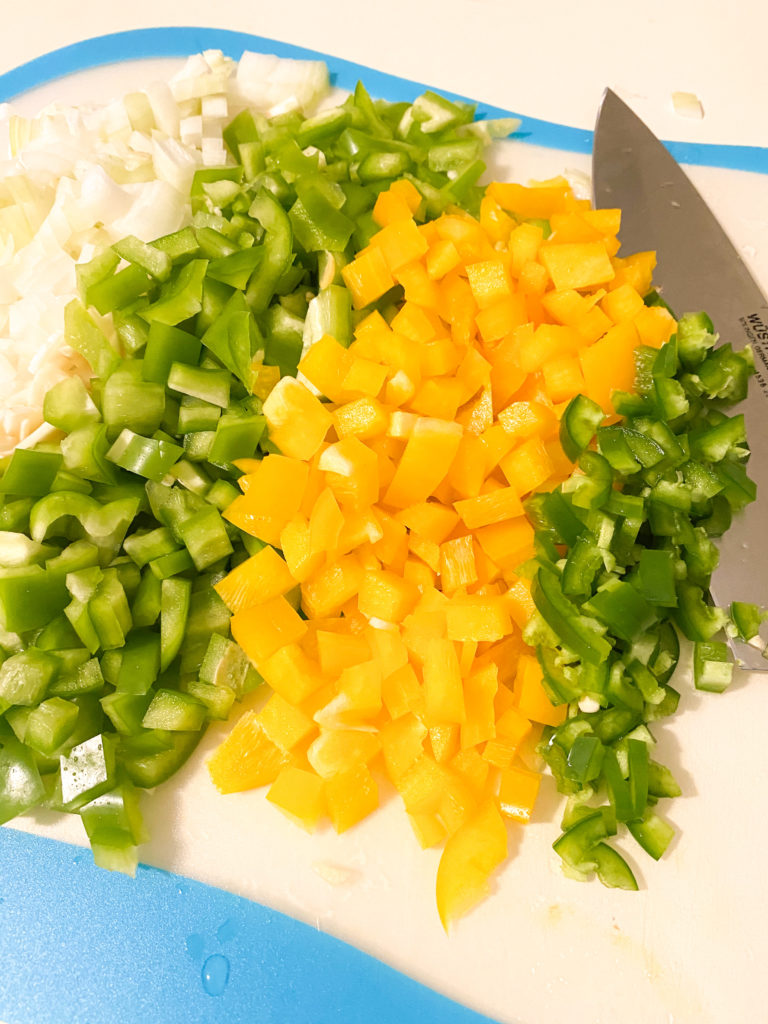 Can I add meat?
Of course!!! Just add the meat (lean ground beef or whatever your preference is) after you've cooked the onion. Break up the meat with a wooden spoon as it cooks, then follow the recipe as written. Keep in mind that adding meat will up the serving count, but this chili will stay good in the fridge for a few days and you can just freeze the rest if needed.
Can I make this in the slow cooker?
Sure!!! I would just recommend sautéing the veggies first. Cook it on low for at least 2 hours, but as with most slow cooker meals the longer, the better. I would aim for at least four hours. Let me know how it comes out if you make it this way since I have never tried.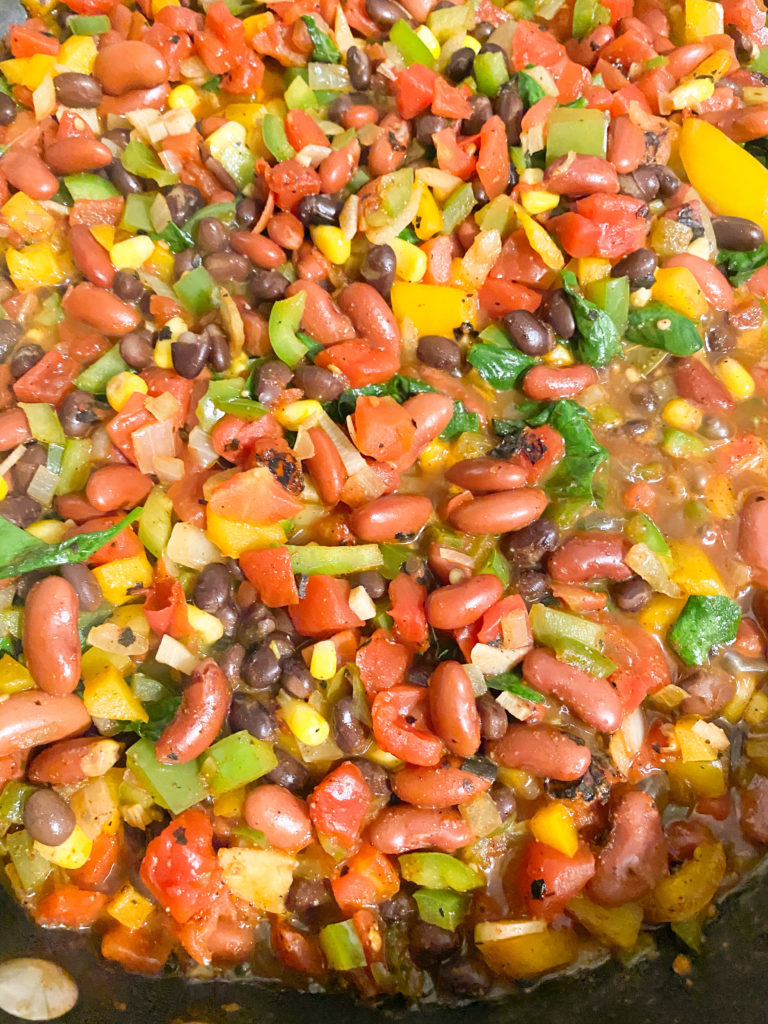 Leftovers are a lifesaver!
This recipe makes six generous servings! We all know that one of the best things about making chili, is having lunch all set for a few days. Chili keeps great in both the fridge and freezer. Pro tip: store your extra chili in individual sized air-tight containers topped with your favorite fixings (mine are Greek yogurt, shredded cheese and cilantro) so you can just heat and eat. This chili makes six generous servings (it's probably really eight, but I fill those bowls up to the top). If you're adding meat it will make eight to ten servings. Since I always have extra, I like to bring a few containers into work and leave them on my co-workers' desks as an unexpected lunch surprise. The look on their faces when they realize they don't have to settle for a cafeteria grade sandwich leaves me wanting to do something like this every day.
Get cooking!
Chili is a great choice and always a crowd favorite. I love serving it with a fixings bar so that everyone can doctor up their bowl of goodness however they like. What are you waiting for? Put your veggies and canned beans to work tonight and realize just how tasty and filling vegetarian dishes can be. As always, let me know how your Vegetarian Chili comes out by leaving a comment below. Enjoy! Buen provecho!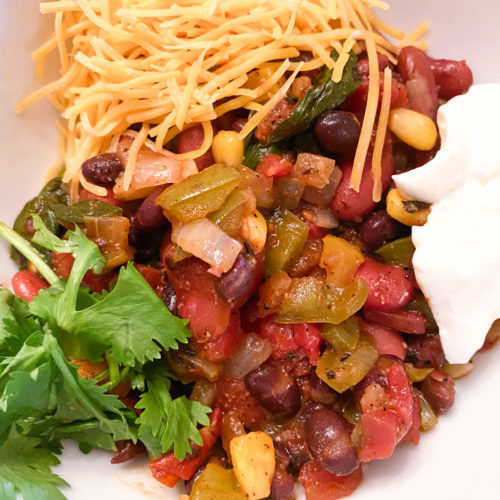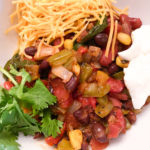 Print Recipe
Vegetarian Chili
his Vegetarian Chili is so hearty that you won't miss the meat. It is made from basic ingredients which means you don't have to make an extra trip to the store. And best of all, this recipe makes six generous servings so you just might have lunch set for the next few days.
Ingredients
1

medium yellow or red onion, chopped (if you like raw onion as a topping, set a bit aside)

4

cloves

of garlic, halved and sliced

2

bell peppers (I like to use one red and yellow for color), chopped

2

large handfuls of spinach

1

medium zucchini, chopped

1

jalapeño, minced (optional; with seeds for more spice; seeds removed for less spice)

1 15.5

oz

can kidney beans, drained and rinsed

1 15.5

oz

can black beans, drained and rinsed

1 14.5

oz

can diced tomatoes (use any flavor you like—fire roasted, green chili, etc.) and their juices

1/3

cup

frozen corn kernels (or half a can of corn, drained)

2

bay leaves

1

tsp

chili powder

1

tsp

garlic powder

1

tsp

paprika

optional: pinch of cayenne (if you like it extra spicy)

salt and freshly ground pepper to taste

fixings of choice: sour cream (or plain Greek yogurt), shredded cheddar, raw onions, fresh cilantro, etc.
Instructions
In a large skill, heat oil over medium heat. Add onions and cook until translucent (about 3 minutes). Add the rest of the fresh vegetables and sauté until they begin to soften (about five minutes). Add the rest of the ingredients (but not the fixings!) and turn up heat, cooking until the liquid starts to boil. Reduce the heat and cook uncovered until liquid is mostly evaporated (about 15 minutes). Remove bay leaves, taste and adjust seasoning. Serve in deep bowls topped with your favorite fixings of choice.
Notes
If you are adding meat, add it after sautéing the onions and then just follow the recipe as written.