It's summer which means…yes you guessed it…BBQ season. Now I know that you don't want to leave your vegan and vegetarian friends out of the fiesta! You might even have been thinking of joining the Meatless Monday train yourself. If so, then this recipe is what you've been searching for. While I love my Quinoa Black Bean Burgers they do require a bit of prep time as you have to cook the quinoa and sauté the veggies. I knew I needed to develop a veggie burger that took no time to pull off; one of those last-minute throw everything in the food processor kind of veggie burgers. These Mushroom Black Bean Burgers are exactly that. You don't have to chop anything by hand, sauté any veggies or prepare a binder like rice or quinoa. Literally the food processor does all the work. You'll be back at the BBQ fiesta in no time.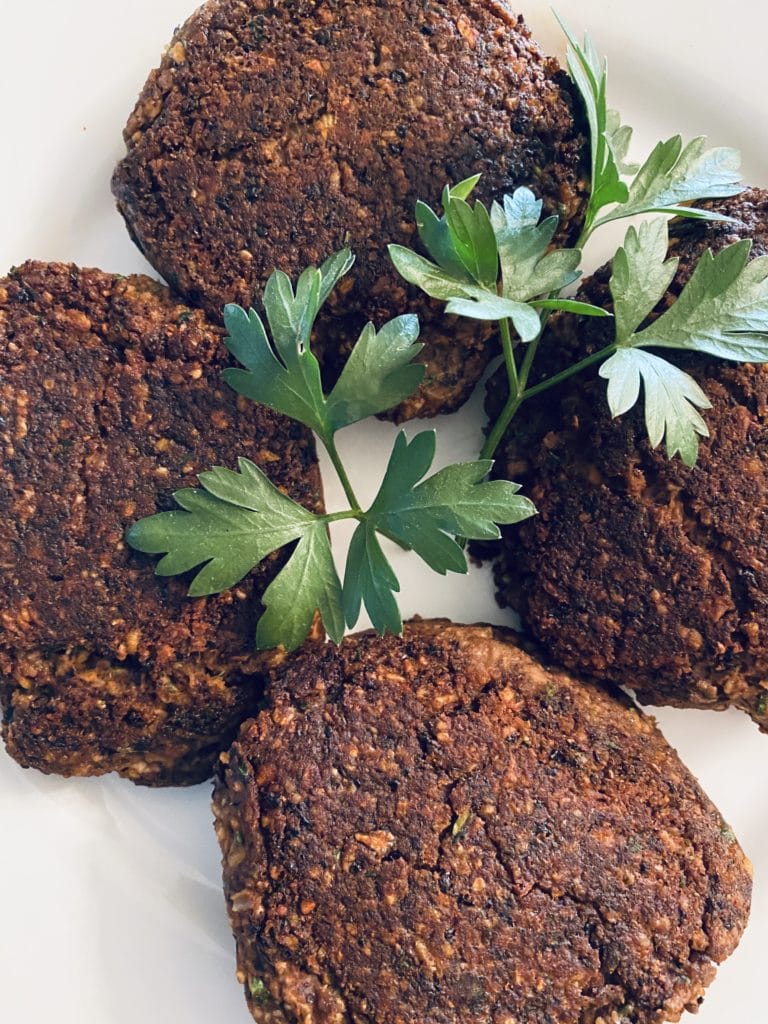 Food processor magic
Like I said, there's no chopping by hand for this burger, so you'll be making patties in no time! I use my food processor as often as I can since I learned quite quickly that with a newborn, I might only have five minutes in the kitchen. Quick recipes are lifesavers these days! If you need some motivation dusting off your food processor, check out this post that explains why I love mine so much. Honestly, I'm obsessed. And once you realize how awesome your food processor is, you can give Mama's Salsa a try—I bet you it would be a delicious burger topping!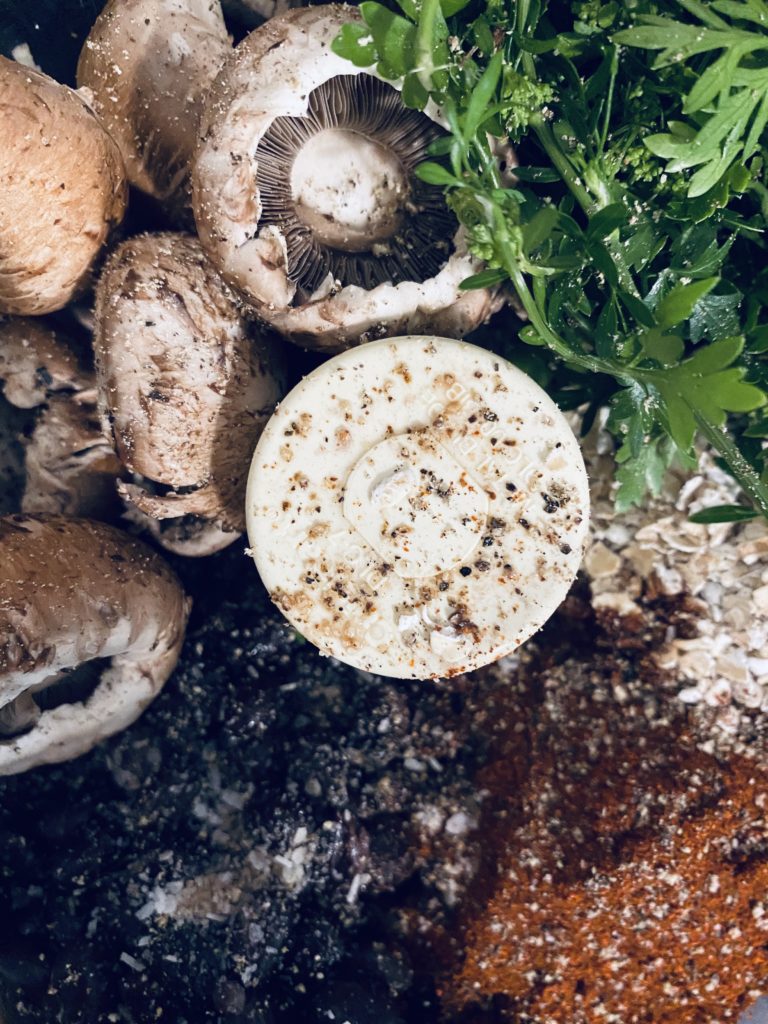 Top it however you want
This burger stays together quite well, so toast a bun, slice up some tomatoes, melt a piece of cheese on top, bust out your favorite condiments…do whatever your little burger heart desires! I personally love topping mine with Creamy Avocado Dip or mixing mayo with Arugula Pesto; both are made in the food processor and are so easy to make they'll be ready by the time your burgers are cooked. I also don't hate a fried egg on my burger and sometimes when the baby has just gone down for a nap, I make Caramelized Onions. Yum! You could even serve this burger over a salad (try this Asparagus Tomato Salad or put your pantry to work and make yourself a Can Can Salad). Honestly, you really can't go wrong whatever you decide.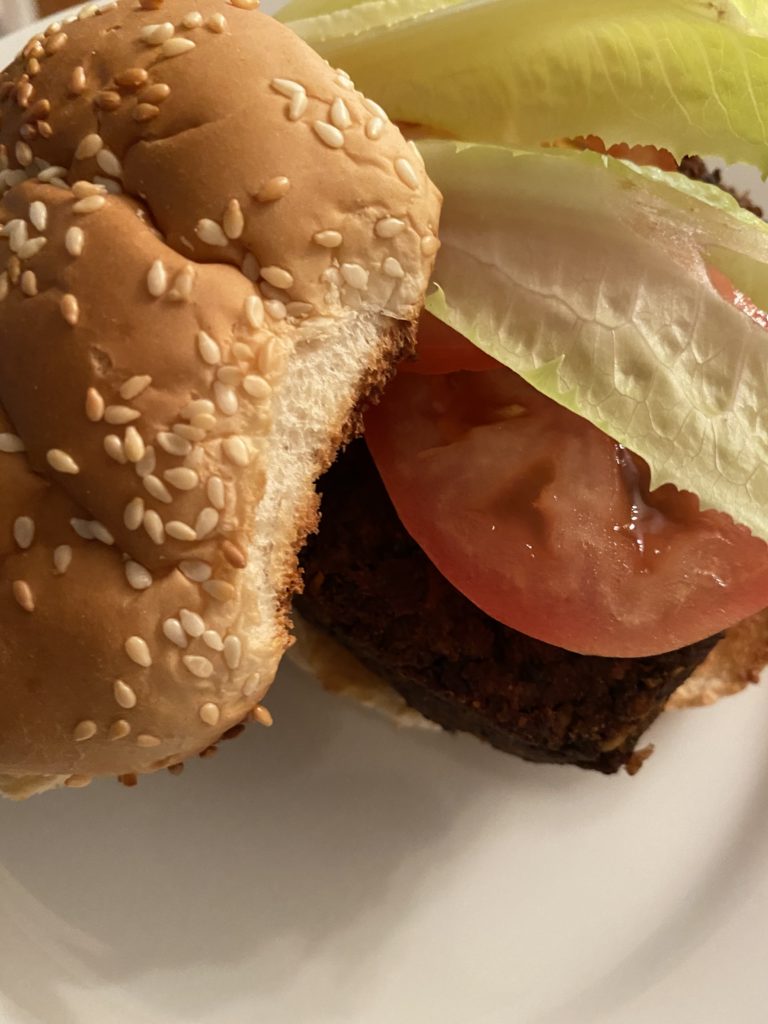 Get cooking!
Don't leave your vegetarian and vegan friends out of the BBQ again! They'll love that you took the time to make them something special. If you're looking for more veggie burger ideas, check out these Quinoa Black Bean Burgers or you could even try turning these Spaghetti Squash Cakes into burgers. And if you need more vegetarian dinner inspiration, I serve these No Fry Eggplant Stacks and Stuffed Parmesan Zucchini Boats all the time! As always, let me know how your Mushroom Black Bean Burgers come out by leaving a comment below. Enjoy! Buen provecho!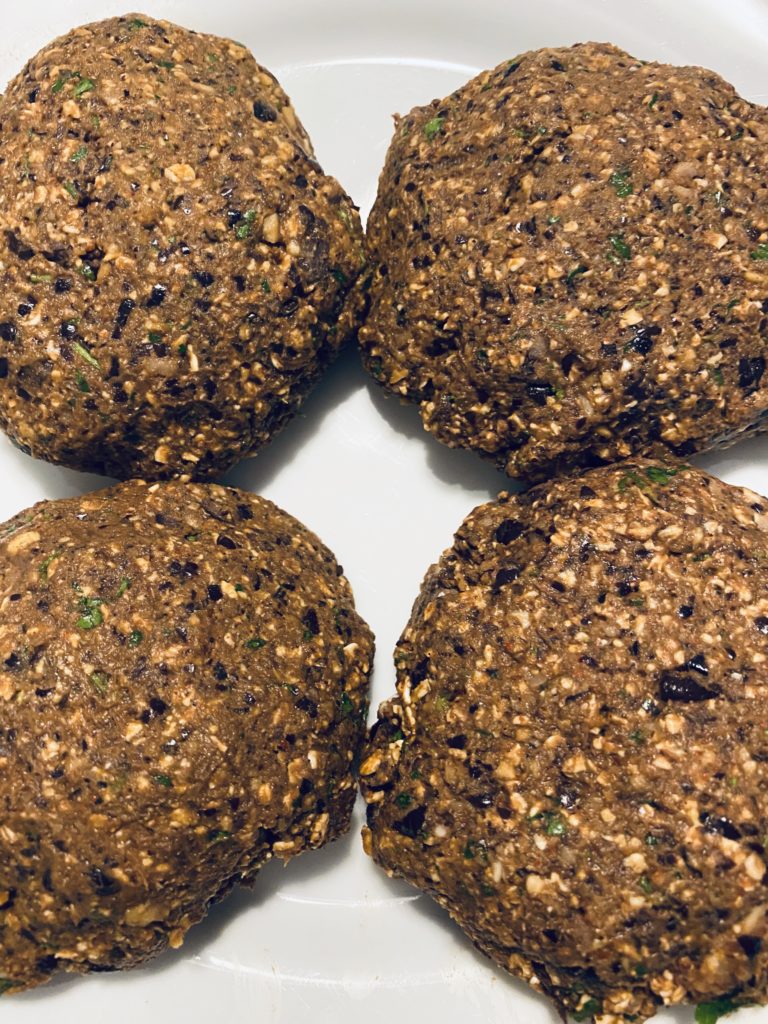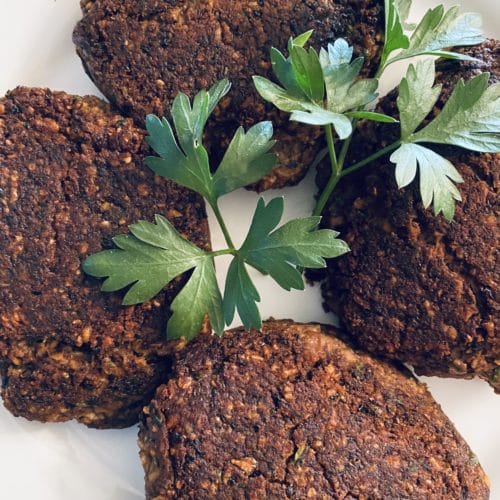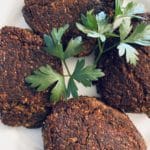 Print Recipe
Mushroom Black Bean Burgers
These Mushroom Black Bean Burgers will make you look forward to Meatless Mondays. They come together in a flash thanks to the food processor and are a hearty dinner option. Top them as you would any other burger or serve them over a salad.
Ingredients
3

cloves

of garlic

8

oz

(a small container) button mushrooms, cleaned, stems removed

(I like to use baby Portobellos)

1

15.5 oz can of black beans, rinsed and drained

¾

cup

rolled quick oats

2

tbsp

balsamic vinegar

2

tsp

chili powder

2

tsp

paprika

1

tsp

garlic powder

handful of parsley (about ¼ cup), thick stems removed

pinch

of red chili flakes or cayenne pepper (optional for some heat)

salt and freshly ground pepper to taste

2

tbsp

extra virgin olive oil
Instructions
Fit the food processor with the metal blade. With the machine running, drop garlic cloves through the feed tubing (this will help to mince them evenly). Scrape down the sides and add the rest of the ingredients (except for the olive oil!) to the work bowl. Pulse a few times until all the ingredients are well combined, but not pureed. Let sit for about 5 minutes (or even longer if you have time); this will help the oats absorb the liquid and stay together when cooking. Shape into four to five even burgers packing the patties tightly.

In a large skillet, warm oil over medium heat. Arrange burgers in pan and cook until crisp (about 4-5 minutes). Flip burgers carefully (they are delicate) and cook another 4-5 minutes on the other side adding more oil if necessary. Serve as you would any burger.
Notes
While you could cook these on the grill, they are delicate and will ultimately cook better in a skillet. 
These keep well in the fridge for a few days or you could freeze them.
I've also made these with chickpeas and white beans before; both came out great, but I prefer black beans.