Once you start making your own salad dressings it's hard to go back. It's are easy; just a few ingredients will give you a lot of flavor. And it's quick; usually it involves mostly pouring or scooping, maybe a quick dice of a garlic clove. While I do keep some store-bought dressings in the fridge (my favorite brand is probably Brianna's Homestyle), I tend to whip up my own more often than not.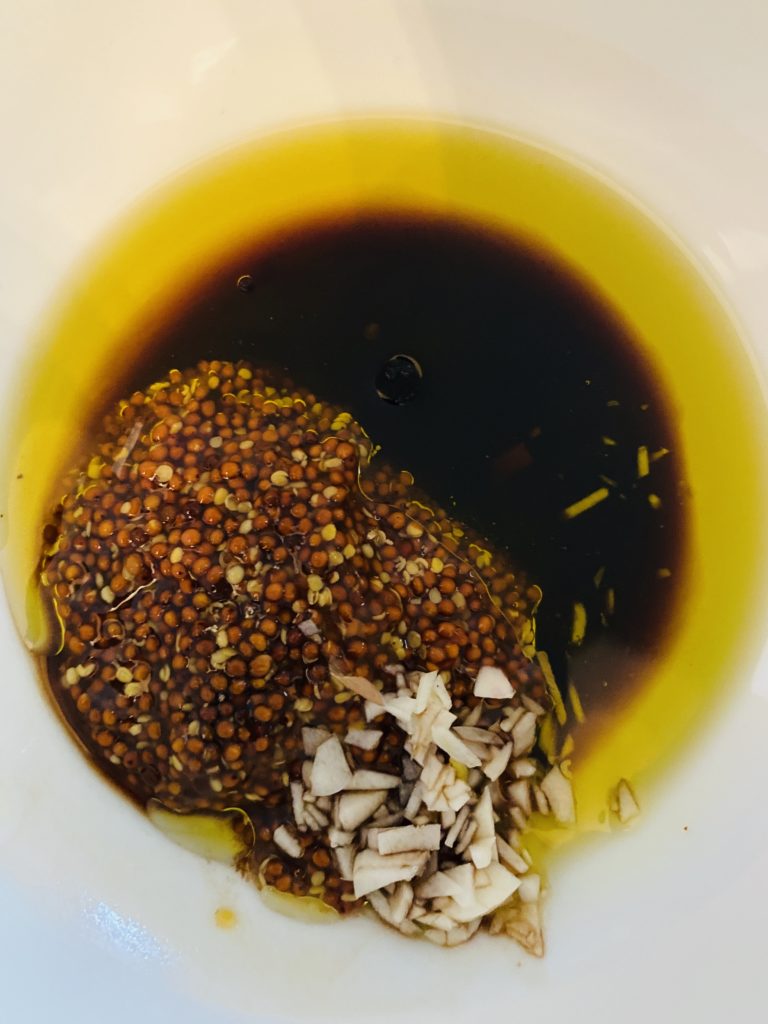 What is whole grain mustard?
This whole grain mustard vinaigrette is one of my go-to dressings. I always have a jar (or two) of Maille Old Stylemustard in the fridge since I use it not only in salad dressings, but also on sandwiches, sausages and cheeses. They sell Maille at my local supermarket in the condiment section, but if you can't find it any whole grain or stone ground variety will do the trick. You'll want to choose a jar that has whole mustard seeds (or as close to whole as you can find) which these give the mustard a grainy texture and a full flavor.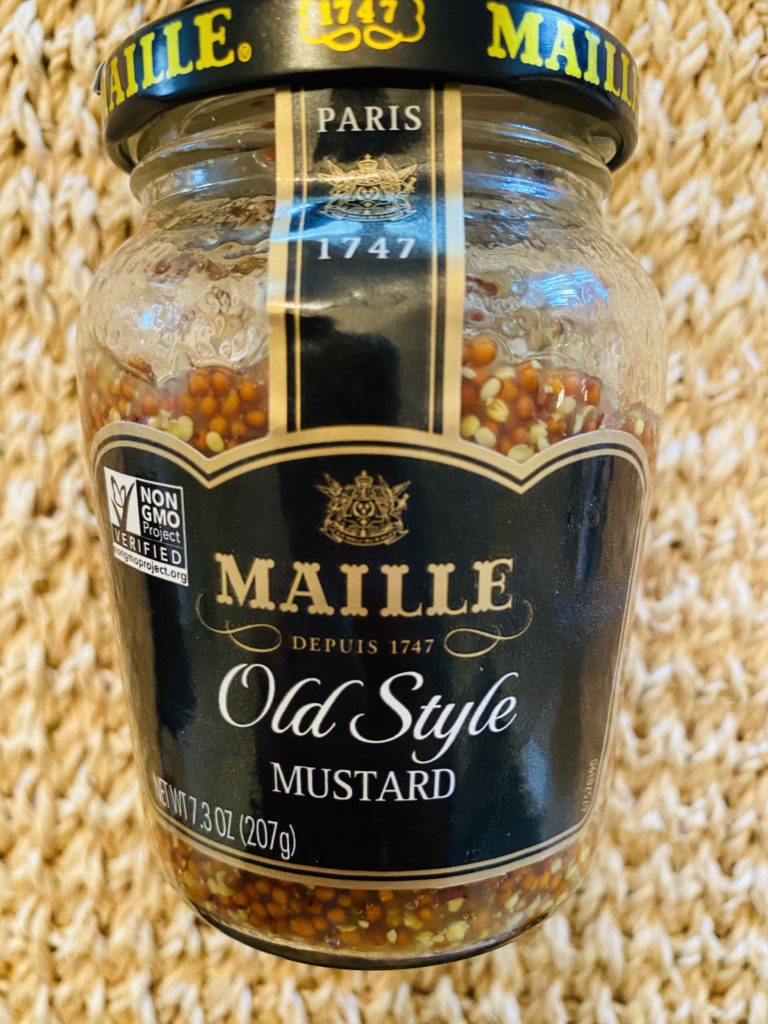 Use a high-quality extra virgin oil
When I am making salad dressings, I use a higher quality extra virgin olive oil than when I am cooking. You will really end up tasting the olive oil in a dressing much more than you will in sautéed vegetables so I think it is worth the splurge to have an olive oil that is extra delicious.
Can I adjust the recipe?
Of course!!! The beauty of homemade salad dressings is that you can adjust the ingredients to find the perfect combination for you. For example, I like a lot of mustard, so this recipe calls for two tablespoons, but it would be just as tasty with only one. I also like to use both apple cider and balsamic vinegars, but you could easily use one or the other. Make this recipe your own and create a salad dressing that you love.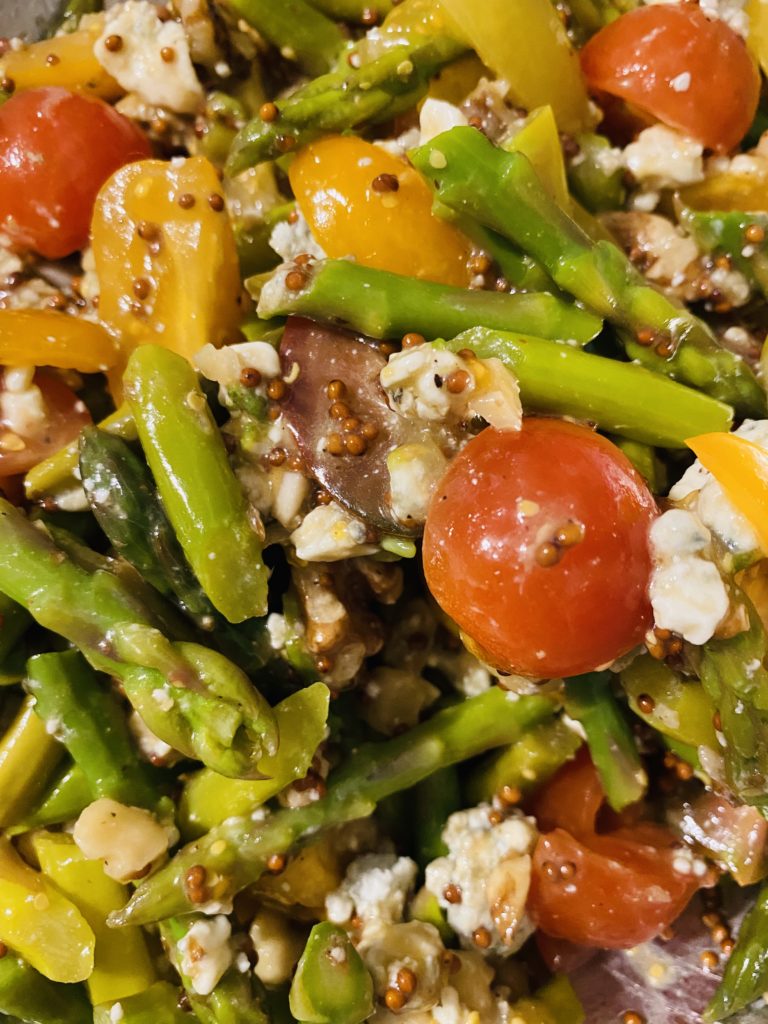 Get salad dressing making!
Try this vinaigrette on an Asparagus Tomato Salad or get creative and make a Can Can Salad. For more salad ideas, check out these: Broccoli Cabbage Caesar and Tomato Avocado Cilantro. As always, let me know how your Whole Grain Mustard Salad Dressing came out by leaving a comment below. Enjoy! Buen provecho!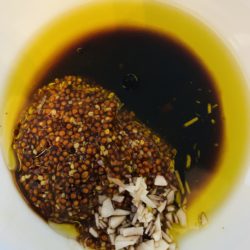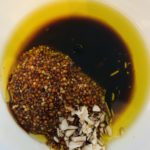 Print Recipe
Whole Grain Mustard Salad Dressing
This easy vinaigrette uses whole grain (old style) mustard giving a slightly textured consistency and a ton of flavor.
Ingredients
3

tbsp

extra virgin olive oil

2

tbsp

whole grain mustard (I use Maille Old Style)

1

tbsp

apple cider vinegar

1

tbsp

balsamic vinegar

1

clove

of garlic, minced

salt and freshly ground pepper to taste
Instructions
Combine all ingredients and mix well. Taste and adjust to your liking. Toss gently with salad.
Notes
The whole grain mustard I use Maille Old Style, but any brand will do just make sure you buy one with full seeds.