Kids demand a lot of snacks. And when I say a lot, I mean like every five seconds they are hungry! It's a fact of life that is better to accept sooner than later. I've come to peace with this reality and instead of questioning my son's hunger, I've scouted out easy, quick, healthy snacks that I can have on hand at home and on the go. While I always have some pouches, golffish, crackers, Cheerios, etc. in the cabinet, I also like to make my own snacks so I can feel a tad bit better about what he is eating. Not sure how long this will last, but so far, I'm on a roll. One of my very favorite snacks are these Banana Oatmeal Cookies. I always seem to have overripe bananas and as soon as I see one fruit fly, I make a batch of these!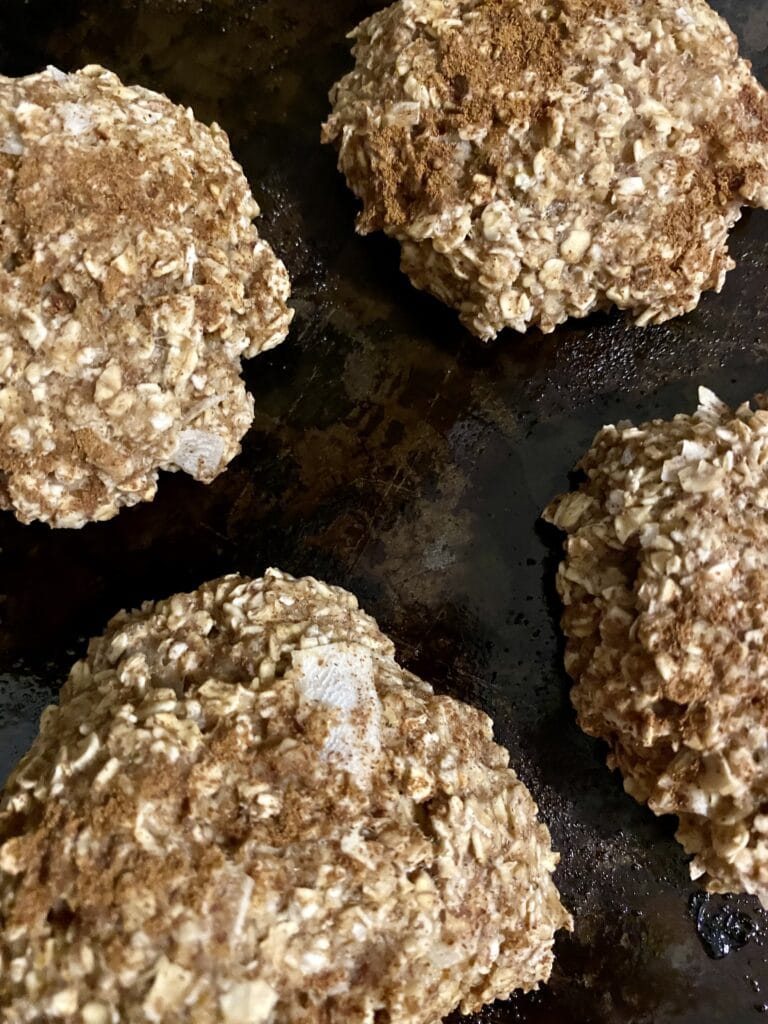 Why overripe bananas?
You want to use an overripe banana for two reasons. First, this perfect fruit gets even sweeter as it ripens and these cookies have no added sugar or other sweetener, just banana. So, the more overripe, the sweeter the cookie. Second, you want to be able to mash the banana easily. The "liquid" from the banana is what the oats will absorb and help to bind the cookie together.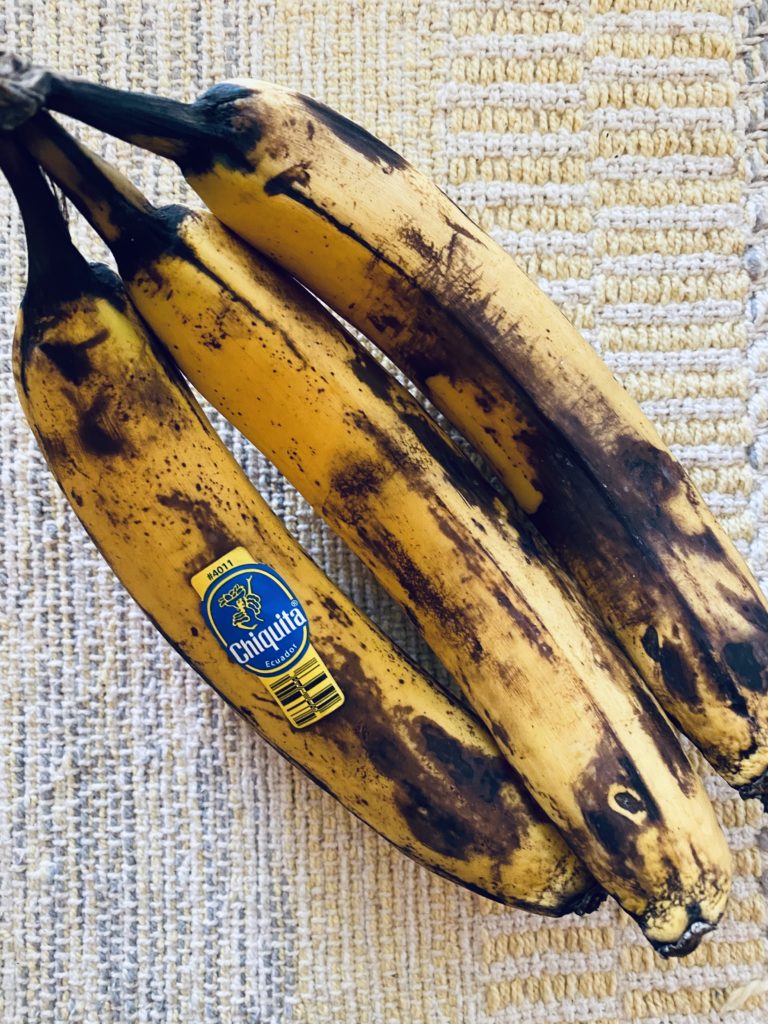 Add ins galore
This cookie can really be whatever you want it to be. I usually throw in some coconut flakes since they're my fav and I bought way too many during the onset of the pandemic and need to get rid of them before they expire. I've made these with raisins, chocolate chips, nuts…you name it. You just want to be sure the mixture is still sticky. Don't go too crazy or when you form the cookies, they will fall apart!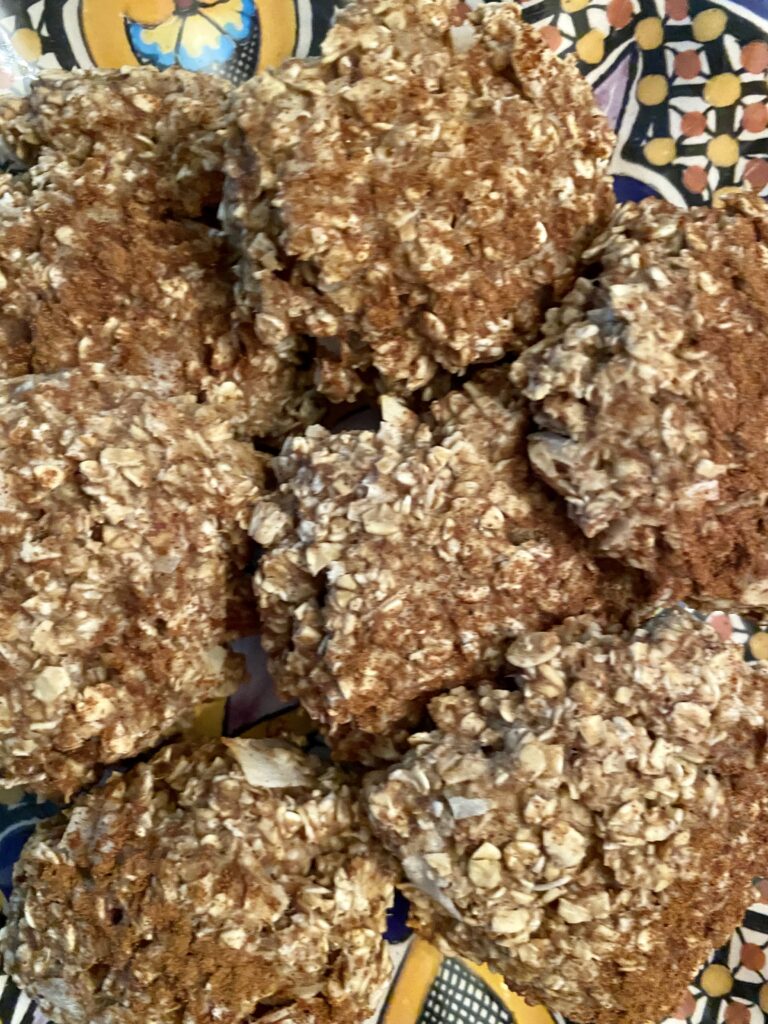 Get baking!
These are the perfect healthy snack, especially since you can tailor them however you wish! If you're looking for some other easy snacks, both these No Bake Granola Bars and these Hulk Pancakes are family favorites and I often have Veggie Biscuits on hand. We love both this Banana (Pea)nut Bread and this Carrot Ginger Bread. I'd also give these your Flourless Black Bean Chocolate Muffins a try—they aren't for everyone, but we love them. As always, let me know how your Banana Oatmeal Cookies come out by leaving a comment below. Enjoy! Buen provecho!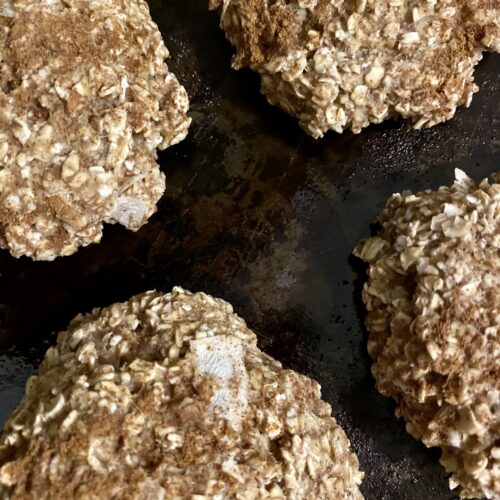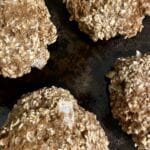 Print Recipe
Banana Oatmeal Cookies
These super similar, naturally sweetened Banana Oatmeal cookies are a mother's dream. They are healthy, tasty and easy to make. Use the banana-oat combo as your base and add in whatever you're craving! These will soon become a household go-to snack. Enjoy!
Ingredients
cooking spray of choice

1

cup

quick oats

1

over ripe banana

½

tsp

cinnamon, plus more for sprinkling
Optional add ins
Dash of vanilla extract

Chocolate chips

Unsweetened coconut flakes

Raisins

Chopped or slices nuts

Anything else that sounds good to you
Instructions
Preheat oven to 350 degrees F. Spray a cookie sheet (line with tinfoil for easy cleanup). In a large bowl mash banana(s) (keep ratio of one banana to one cup of oats if using additional bananas). Add oats and cinnamon and mix well. Fold in you add ins of choice (there's no quantity listed because it depends on the ripeness of your banana; add enough that you are happy, but not too much that the mixture isn't sticky and binding to itself). Let sit for 2-3 minutes to let the oats absorb the liquid. Form into round balls, flatten into desired thickness and place on tray keeping in mind that these cookies will not expand or change shape as they bake. Sprinkle each with some extra cinnamon. Bake in preheated oven for 12 minutes. Cool before serving. These keep well for a few days in an airtight container in the fridge.